Crock Pot Arroz Con Pollo (Spanish Chicken With Rice)
Gaia58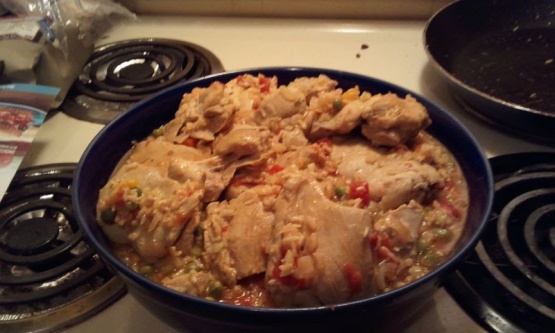 Here's a slow cooker version of the great Spanish dish Arroz con Pollo. This tasty one dish meal is popular with everyone. Serve with a green salad and hot crusty bread, and pass the hot pepper sauce for those who like heat.

Good recipe - but I changed it a little. Saffron is good in this, but true Cuban arroz con pollo uses some oregano and cumin. I used a round teaspoon of both. I also added a little Spanish paprika for a smokey flavor. To avoid having the rice turn to mush, first I deglazed the frying pan with the tomatoes and added this to the crockpot. I waited until about 45 minutes before completion, and sauteed the rice in a little olive oil until transparent, then added this rice to the crock pot. The rice cooked perfectly - it was tender but did not turn to mush.
In a non-stick skillet, heat oil over medium-high heat.
Add chicken, in batches, and brown lightly on all sides.
Transfer to slow cooker stoneware.
Reduce heat to medium.
Add onions and cook, stirring, until softened.
Add garlic, salt and pepper and cook, stirring, for 1 minute.
Add rice and stir until grains are well coated with mixture.
Stir in saffron, tomatoes and chicken stock.
Transfer to slow cooker stoneware and stir to combine with chicken.
Cover and cook on LOW for 6 to 8 hours or on HIGH for 3 to 4 hours, until juice run clear when chicken is pierced with a fork.
Stir in green pepper and peas, cover and cook on HIGH for 20 minutes, until vegetables are heated through.
Garnish with olives, if using, and pass hot pepper sauce, if using.
TIP: If you are in a hurry, skip browning the chicken.
Just make sure that all the skin is removed; otherwise the dish will be too fatty.
*Saffron is a pungent, bittersweet spice garnered from a particular kind of crocus.
Buy saffron in threads, not powder, preferably from a reputable purveyor.
Turmeric can be used to convey the saffron color in a dish, but it will not replicate the unique and haunting flavour of the original.
Delicious & Dependable Slow Cooker Recipes.