ImPat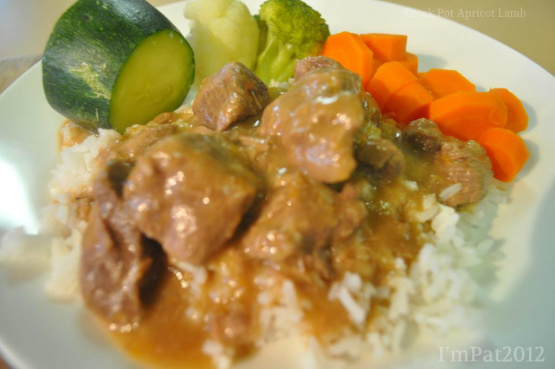 Nice quick meal for two in the crock pot, although can be scaled up easily. Serve with seasonal vegetables or a salad.

Top Review by ImPat
i scaled back for 2 serves and used 540 grams of precut lamb and it served the 3 of us perfecxtly, it semlt wonderful while cooking but when I went to eat all I could taste was the star anise but the DM and DS thought it was tops so would cut back on the star anise and maybe add some dried apricots to bring out the apricot flavour.served over ricerr. Thank you Peter J made for Aussie/Kiwi recipe swap #71 December 2012.
Lightly coat crock pot with olive oil, or use olive oil spray to prevent sticking.
Dissolve chicken stock cube in hot water in a bowl.
Add apricot nectar, orange juice, orange zest, star anise and pepper to bowl and mix well.
Place lamb in crock pot and cover with mixture.
Cook for 5-6 hours on low.
Near end of cooking remove lid, sprinkle flour into sauce and mix well for a few minutes until thickened.