Croatian Zagorje "kotlovina"
nitko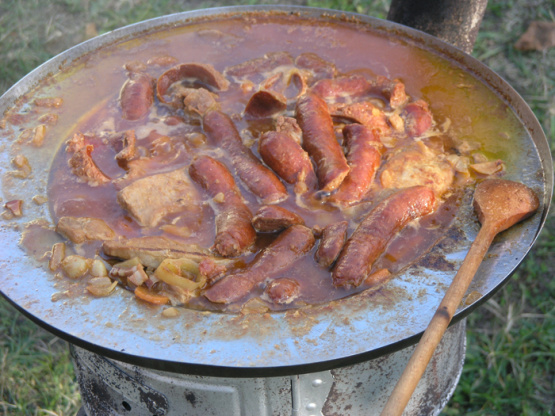 This is very special meal form region Zagorje in Croatia. It is usually made for large groups of people, feasts, holidays, celebrations, or just drinking parties. The best is to use neck part of pork chopped into schnitzels, various sausages (preferably hot – we have one sausage nicknamed "Firemen's party" because it is VERY hot), and of course pork chops. We use a special equipment (you can see on pictures), cauldron (in Croatian: "kotao") and that is the origin of the name: Food from cauldron or "kotlovina". This is recipe for about 15 persons but of course this can be reduced for smaller party. You can do it at home using frying pot but it will not be so great.
First chop pork meat (neck and chops) into schnitzels and marinate at least 4 hours in: salt, pepper, sliced garlic and oil. Just mix all these ingredients with meat, cover and keep in cool place. This is also nice marinade for normal pork meat on grill; we use it a lot in Croatia.
Grill meat and sausages on cauldron flat bottom part, and when done place them on the sides of the cauldron.
Slice all potatoes into 1/8 parts. Slice onion into rounds or half-rounds. Put onion into oil where meat was grilling and sauté it until translucent.
Add all paprika, sweet and hot, stir, add all wine and stir removing possible lumps from paprika. Add all sliced potato and if necessary some water to cover potato. Fire must be strong.
Cook potato about 20 to 30 minutes or until soft. Try it and if necessary salt it more. At the end or last 10 minutes add meat into potato. Serve hot with lot of wine to drink (or beer).