nitko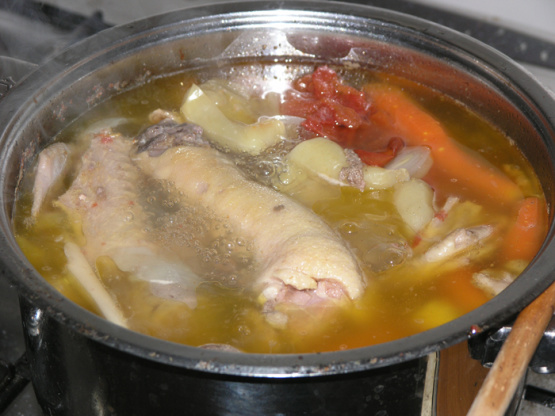 This is very simple soup, traditional Sunday lunch starter in Croatian families. It must be cooked on very low fire for 3 to 4 hours. Use turkey back, wings, legs, head or parts of turkey not suitable for Thanks giving meal.
Put cold water in a pot (appropriate large pot). If you want better soup put turkey in cold water, if you want better turkey meat put it in hot water.
Rind carrots, onion, parsley, celery and put all other ingredients into water. Boil and after it boils reduce heat and cook for 3 to 4 hours.
Filter the soup into separate pot.
If you want, put into strained soup carrots, turkey meat (or liver, stomach, or hearts) and add noodles or whatever you like in soup, sprinkle with freshly minced parsley and serve.