Croatian " Stubica Tenderloin"
nitko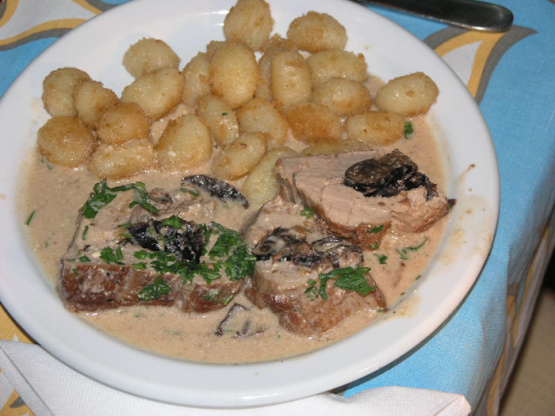 This is a meal from 17th century. Excellent meal enjoyed by feudal lords in Zagorje area. Donja Stubica is the place where peasant rebellion occurred in 17th century, led by "king of peasants Matija Gubec". This recipe is from Cooking school in Zagreb, meaning – this is the basic recipe.

to Chef # 1371443 on this website is a measurement conversion & it will tell you how much ounces or pounds to use for the grams its very easy to use
Cut the tenderloin though middle and make a "pocket".
Wash dried plums (take out the stone) and instead of stone put butter. Put buttered plumes one by one all through the pocket and close with toothpick.
Season tenderloin and fry it on hot lard to close pores. Plumes surplus cut into stripes and add into frying pan.
Cover with wine and water if evaporates too much and sauté until meat is soft (about 20 minutes).
Add sour cream and cooking cream. At the end add slivovica and sauté it for 1-2 minutes. Sprinkle with parsley leaves.
Before serving cut across and cover with sauce. Serve with noodles, rice or flour noodles.