Croatian " Samobor Pork Chops"
nitko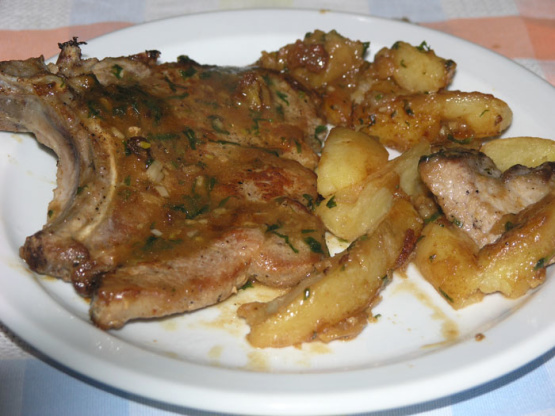 This meal is from Zagreb suburb Samobor. Long time ago, Samobor was part of Napoleon's "Iliric County" (Zagreb was in Habsburg monarchy) and after that Samobor is well known for its mustard and sausages (French recipes). This recipe is not from Napoleon time. As usual, everyone in Croatia thinks they know the best way of cooking Samobor pork chops, and this is how I make it.
First rind potato and cut in 1/8 parts. Put them in large pot (the best is clay pot for baking bread) cover with some lard and salt, and bake it for 30 minutes in the oven.
During this season pork chops. Fry each pork chop in frying pan on lard. Take them out and remove to warm place.
Mince garlic and add it into frying pan on dripping fat. Fry garlic just 10 seconds and add just little flour (one or two teaspoons) and some stock. Sauté it 1 minute and add beef stock (not all, depends how soupy you want your sauce).
Put back pork chops, mix it with sauce and add beef stock if necessary. Sauté meat until potato is ready (soft); it should be ready now.
Put meat into potato pot and cover with sauce, sprinkle with parsley and put it in oven for just 5 minutes to bake on strong top heat.
When serve, it is nice to bring the whole pot to the table, your guests will be satisfied with the view.