nitko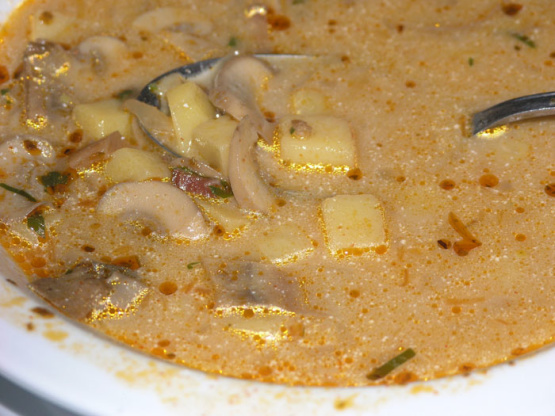 This is Northern Croatia recipe. We usually use wild mushrooms ("vrganj") fresh or dried. Most similar to "vrganj" is crimini. You can use any kind of eatable mushroom. Amazing and simple to make. I made it with cremini mushrooms as well and I felt the taste fit perfectly. The recipe was easy to follow. I'm not used to measuring in grams for the sour cream and parsley so I just kind of eyeballed it and it turned out great. All my guests said it was one of the best soups they've ever had. Will definitely be making this again.
If you use dried mushroom soak in water them before use about 10-15 minute.
On a melted lard sauté onion and bacon until it is soft. Add flour and sauté until the flour is brown, add very little paprika and after 30 sec. add cold water and stir to prevent coagulation.
Add all the mushroom you have, salt, pepper and potato sliced in small cubes. Add water (cca 1 liter) and cook 1,5 hour (if water evaporate add some more).
At the end add sour cream and parsley. REMEMBER all mushrooms are eatable, some of them only once!