nitko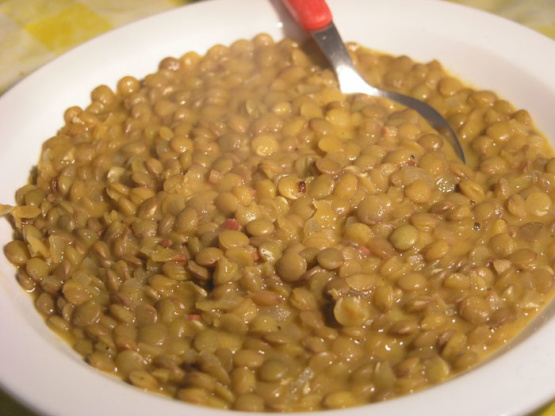 Very healthy stew, especially if you have digestion troubles. Popular in Northern Croatia. Usually served with sausages, hamburgers, fried eggs or pork chops. Suitable as a single dish

I like this better than the bean stew my serbian husband makes:) I completely forgot to add the sour cream, I will next time, it sounds great. I didn't measure everything exactly, I used a bit more garlic and hot paprika and it was delicious. If you don't eat this type of thing everyday, you would really enjoy it in cooler weather. I also cheated and did not precook the lentils, but added them dry at step 3 since they cook fairly quickly. Hvala, nitko!
Soak lentil for 5 hours in cold water.
Wash the lentil and put it in fresh cold water unit it boils. Cook it for 10 minutes, change the water, and cook for more 10 minutes or until you see lentil soft. Remove lentil and put it in cold water.
Melt the pig-fat in the pot and add the onion. Sauté the onion until it is soft. Add garlic. Sauté it for 1-2 minutes and add flour. Sauté it until the flour is slightly brown and than add paprika. Add water gently and make a cream of all ingredients. Than add lentil and water to cover the lentil. Season with salt and pepper and add bacon skin.
Cook for 30 minute on very gently fire, or less if the lentil get soft before. Add sour cream, mix it well and serve.