Croatian Lamb/Mutton Chowder (Ajngemahtes)
nitko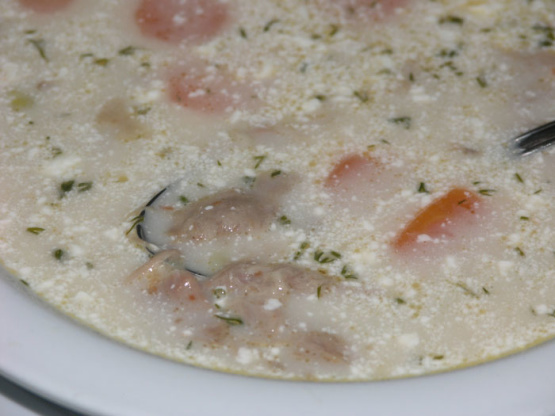 This is one of my favourite soups. Mutton soup is usually served during grape-gathering in Dalmatia because it gives you extraordinary strength and energy which you need during hard work in vineyards. Lamb soup you can eat the whole year. We also eat meat we cook in soup, usually with tomato salsa (see recipe in Zaar – "Island Hvar salsa") and mashed potato.
Put cold water in a pot (appropriate large pot).
Rind carrots, onion, parsley, celery and put all other ingredients into water. Boil and after it boils reduce heat and cook for 3 to 4 hours.
In the meantime, cook green peas until almost done and put aside.
Take another pot and heat olive oil and put flour in it and fry until it become slightly brown (brownish). Add just a little soup in it and mix hard until it become creamy; than add filtered soup.
Cut carrots into small cubes; add green peas and some lamb meat; of course cut it into small pieces.
Cook for more 30 minutes on low fire. You can also add noodles if you like.
Before serving add sour cream and freshly minced dill and serve.