nitko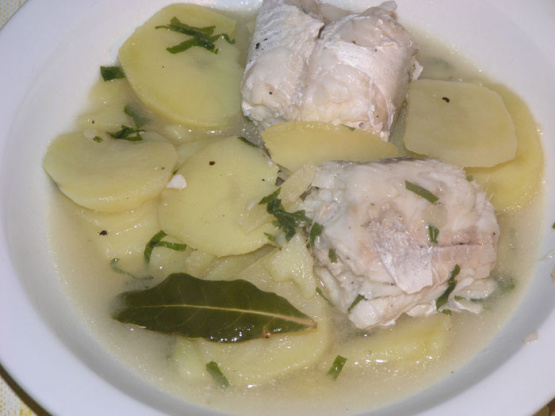 This is very simple fish meal, also very rich and full. Usual lunch in Dalmatian families.

This was perfect! A few simple ingredients, and this turned out to be a wonderful dinner. I used tilapia because my fish market was out of cod today. For the 2 glasses of white wine, I used a good dry wine, and poured 10 oz. for the soup (and a glass for myself!) I followed the recipe exactly. The fish pieces broke up somewhat as I scooped the soup into bowls. But it was insanely delicious, thanks Nitko!
For this meal you have to have large round pot with low rim.
Prepare the potato: slice it in round thin pieces. Put it in a separate pot, cook until water starts to boil, cut the heat and leave it there.
Put olive oil and garlic on heat and when starts to fry add fish sliced in pieces 3-6 cm large. DO NOT STIRR with any kind of ladle, just shake the whole pot.
When fish starts to stick to pot add wine, salt, pepper, bay leaf and potato. Shake it well and add water to cover. Cook until potato is soft (15-20 min). At the end add parsley. Eat it with spoon.