nitko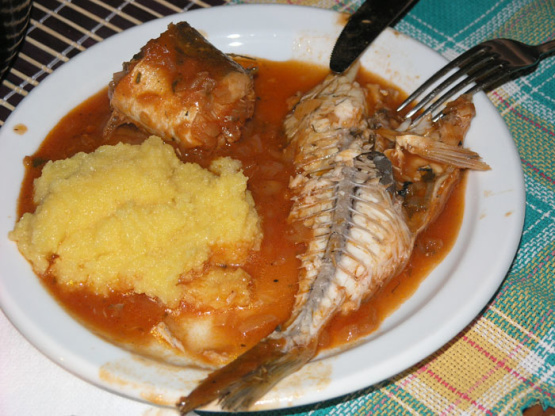 Recipe from Croatian island Hvar. There are many ways of making "brodet", this comes from village Vrboska on Hvar. It is better if you use several kinds of fish.

This is delicious! Who would of thought of using raisins in a fish dish? But, wow, it works great in adding that certain sweetness much like picadello. This recipe's taste is exotic in a sense that it reminds me of all the beautiful places waiting for me to discover with a touch of Turkey, Sicily.and Middle East with Eastern Europe coming in with parsley. I wish I had a whole fish but didn't and used yellow tail filets. Yellow tail or buri has a strong taste much like mackerel and it worked really well here. I would like to try a whole snapper next time. Thank you so much for posting this superb recipe nitko.
For this meal you have to have large round pot with low rim.
Put olive oil in a pot and sauté the onion until it is soft.
Put fish in (if it is too big cut it in portions), fry very shortly. Add vinegar and cook gently for 2 more minutes.
Add garlic and bay leaf. DO NOT STIR with any kind of ladle, just shake the whole pot (if you have wooden flat ladle, you may move fish a bit).
Add tomato, salt, pepper, raisins and water to cover fish.
Cook open for 50-60 minute on not too strong fire.
Add water if evaporates too quickly.
Try it: if it's too sour, add sugar.
At the end add parsley leaves and some more olive oil.
Serve with hard corn mush (polenta, as we say).