nitko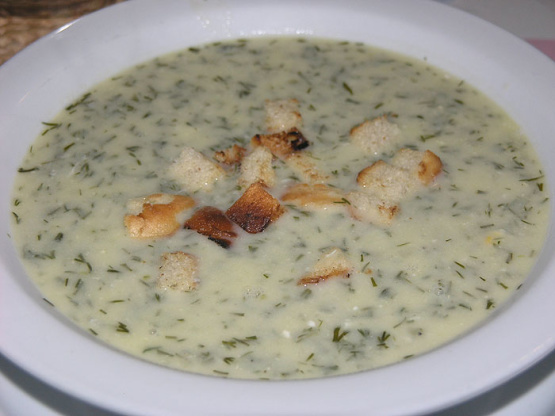 This soup is in my family more than 100 years. I've found the recipe in my grandmothers writings (it is in old handwriting and very hard to read), a booklet full with old recipes. I'm cooking this soup today, so I decided to share it with Zaar.
We add poached eggs and diced potatoes. This soup is filling and awesome, just like one we had at a grand cafe in Prague. We call it Eric Banner soup, after the actor of Croatian descent.
Sauté finely minced onion on 20 g butter until soft. Add flour and sauté it 2 minutes. Add water and make creamy liquid. Add the rest of the water making sure you don't have small flour clods.
Mince the whole dill (including stem – but very finely) and put it into soup. Season with salt and pepper and cook it for about 30-40 minutes.
In the meantime cut bread slices into small cubes and fry it on butter until dry and crispy. Put aside.
When the soup is ready to serve add (in hot soup) sour cream mixed with yolk and lemon.
If you want really full soup you can add egg-white mixing hard the moment you put it inches.
Serve with bread cubes (put them in soup).