Croatian Dalmatian Vegetable Soup
nitko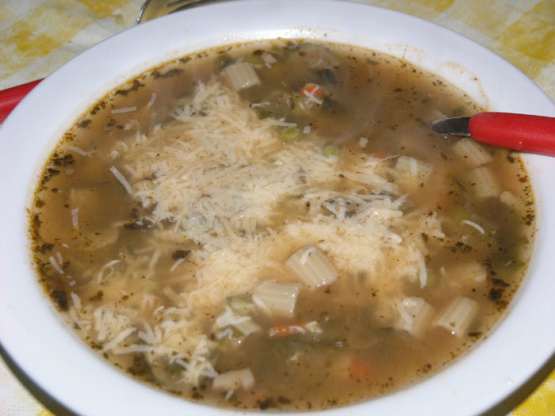 This soup is very similar to Italian "Minestrone" soup. There may be some variations in ingredients, but "the basic plot" is the same. This is the way I have learned it in Dalmatia. It may be full meal because it is like stew. You may not include all ingredients I have mentioned; this is the "full house".
Soak beans and barley over night and cook the next day until soft.
Slice carrots, parsley and celery roots into small cubes, and finely mince onion and garlic. Cut pancetta into small cubes.
Cook French beans and green peas for 10-15 minutes drain and put aside.
Put olive oil into pot, add onion, carrot, parsley root, celery root and sauté it until soft. Add pancetta and garlic and sauté for 5 minutes.
Add some water, French beans, green peas, barley, beans and tomato. Stir and cook 5 minutes, add whole water. It may be more than 1 liter, depends how much soup you want and how dense you want it to be.
Season with salt and pepper and half amount of oregano. Cook about 45 minutes or until all vegetables are soft.
Twenty minutes before end add penne and cook until pasta is done. Before serving add majoran and oregano, taste and add salt if necessary. Serve with grated parmesan over the soup.