nitko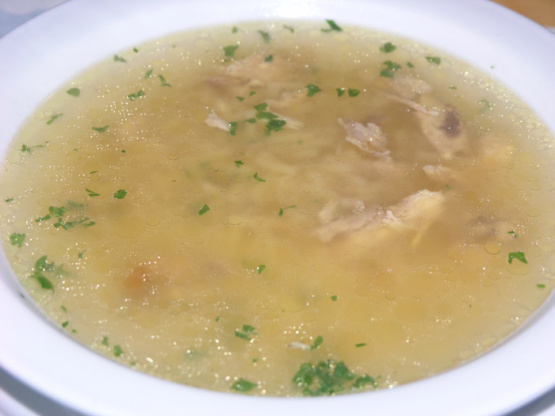 This is very simple soup, traditional Sunday lunch starter in Croatian families. It must be cooked on very low fire for 3 to 4 hours. My recommendation is to use old chicken – the one which is too hard to grill or fry. You can also do it with turkey.

My husband is Croatian and he loves this soup! It is flavorful, easy and filling. It makes a large amount so we have it for dinner usually two nights in a row. I've never found a better authentic Croatian soup recipe than this one, its a real winner!
Put cold water in a pot (appropriate large pot). If you want better soup put chicken in cold water, if you want better chicken meat put it in hot water.
Rind carrots, onion, parsley, celery and put all other ingredients into water. Boil and after it boils reduce heat and cook for 3 to 4 hours.
Filter the soup into separate pot.
If you want, put into strained soup carrots, chicken meat (or liver, stomach, or hearts) and add noodles or whatever you like in soup and serve.