Croatian Cabbage Stew ( Prisiljeno Zelje")
nitko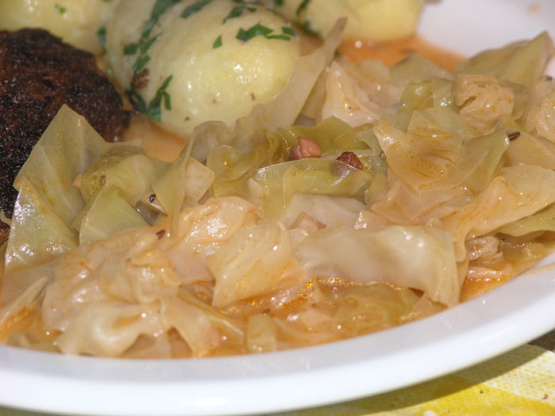 This recipe is at least 200 years old. My grand-grandmother was preparing cabbage that way, my, grandmother was preparing that way, my mother was preparing that way, so I am preparing it that way. This is very healthy meal, although it is prepared on pork fat.

This cabbage was much enjoyed by everyone tonight, I omitted the caraway seed because DH will not eat anything with them. The flavor of this dish ended up with a sweet and sour sort of flavor, but better! It was very mild and pleasant. Not difficult to make but the cabbage took longer to cook to the point that I wanted than stated. I have now made 3 of nitko's Croatian dishes and simply loved every one! I highly recommend that you give them a try. Made for PAC, Fall '07
Cut the cabbage to narrow strips approximately 5mm wide and 2-5 cm long.
Heat water with vinegar and when it boils put cabbage in it.
Cook for 3 minutes.
During this put sliced bacon (in small cubes) on fat until transparent, add flour and brown it.
Add cold water, tomato juice.
Take out cabbage with hollow spoon, and throw the water out.
Add caraway seeds, season with salt and pepper.
Cook about 30 minutes or until cabbage softens.
Serve as a side dish to sausages, pork chops, and similar meat and mashed potato.