Croatian Autumn Beef Steaks
nitko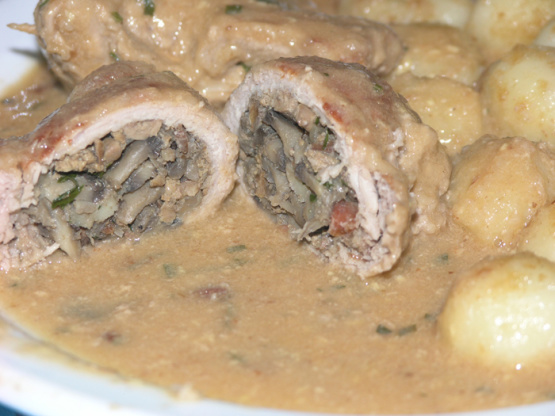 This is a typical stuffed steak from Croatian Northern area (Podravina). As many Croatian recipes it is also rich with tastes, ingredients, and we don't care much for cholesterol. With a glass of red wine, this meal will satisfy all your friends, and of course your mother in law.
For the filling: slice the onion very finely, liver not so finely, bacon on small cubes, and mushrooms on "leaves".
Sauté it following this order: First onion, than mushrooms, and liver and bacon together as last (put the new ingredient when the last is soft, and so on).
Sauté it until all liquid evaporates.
Season it with salt and pepper.
When it cools add one yolk, parsley leaves (minced) and nutmeg powder.
Spread the filling over each steak, fold them in half and close it with toothpicks (3-4 per each steak).
Cover the steaks with flour and fry them on both sides until they become brownish.
Pour 2 cups of wine over steaks and cook until alcohol evaporates.
Add beef stock to cover the steaks completely.
Add tomato jam and cook for 20-30 minute or meat become soft.
Five minutes before end, add mustard. Try it, and season it if necessary.
Serve with rice or potato.