Croatian 16th Century «forska Gregoda»
nitko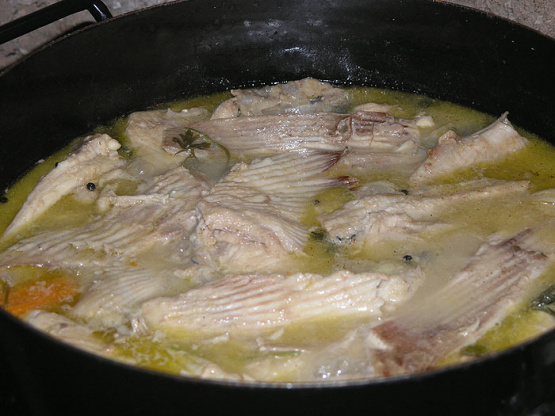 This recipe is from Croatian culinary TV show called "Food from forgotten times". The recipe is from island Hvar. This is meal before America was discovered, so originally there is no tomato or potato in it. Today we prepare it with potato.
Take a large pot with low rim.
If you are making it with potato: Peel potato and cut like 0,5 cm thick chips and cook just 5 minutes to make them softer.
Finely mince onion. Pour olive oil into a pot; add onion and (half cooked) potato.
Cut large fish into 200 g pieces and leave small fish as they are. Put fish into a pot, add garlic, parsley, sage and cook without water at first.
After few minutes, add water to cover the fish (you do not need to use all water). Season it with salt, pepper, oregano and thyme.
When water starts to boil add crabs and wine. Let it boil not more than 10 minutes. That is it.