katii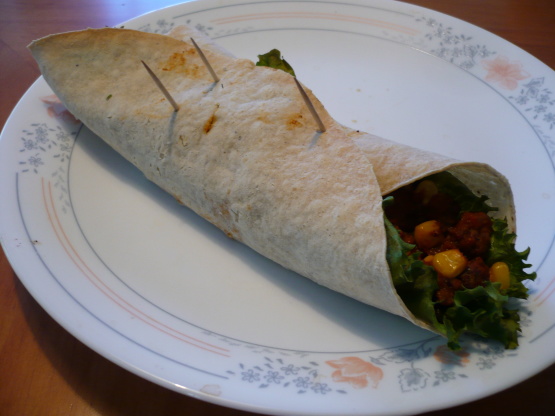 A delicious, hearty meal that tastes better than the fast food version!

Pretty bland. They do make a gluten free taco seasoning now. I would probably use that next time for better flavor. Also I might use a flavored jar of diced tomatoes rather than a chopped tomato and tomato paste. The toothpicks to be able to brown the outside are a must! Great idea just needs some tweeking. :)
Brown the ground beef in a pan over medium heat.
Stir in corn kernels.
Add tomato paste and tomato.
Sprinkle in onion, chili powder, and garlic.
Cook, stirring occasionally, for about 10 minutes.
Heat corn tortilla in the microwave for a few seconds to make more pliable.
Line tortilla with lettuce leave, fully covering to ensure the burrito doesn't get soggy from the beef.
Spoon beef mixture over lettuce and top with cheese if desired.
Fold tortilla burrito-style and secure with toothpicks.
Broil at 450* for about 10 minutes or until edges of tortilla are browned and hard to the touch.
Enjoy!