gailanng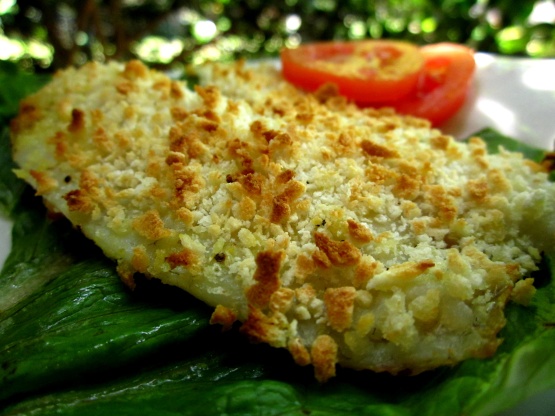 This tilapia is baked in the oven but it also can be sauteed with oil in a skillet over medium-high heat about 2 minutes per side. Found in Cuisine Tonight. I love to use seasoned panko crumbs when making these. I am including a tarter sauce recipe to serve with them.

Thankyou Mama !!! The first time I made this, I followed the recipe to a tee (other than using a reduced fat mayo). We loved this fish. The second time I made this, I used the reduced fat mayo again, and this time used southwest seasoning in place of the lemon pepper. These fish "fingers" then became part of fish tacos. With the crunch from the Panko, thses were the best darn fish tacos ever. Thanks so much for posting this recipe !!
Preheat oven to 450 degrees.
Season fish with salt and lemon pepper. Mix mayonnaise with juice from 2 lemon wedges (about 1 tablespoon).
To bread fish, place mayonnaise mixture, flour and panko separately on three plates. Dredge fish in flour until thoroughly coated, then in mayonnaise mixture, then in panko. Transfer breaded fish to a baking pan, drizzle with oil.
Bake until fish strips feel firm, about 7-8 minutes. Move fish to top oven rack; broil until fish is golden brown about 1 minute (rotate baking sheet for even browning). Serve tilapia with tarter sauce and remaining lemon wedges.
Tarter Sauce:.
1 cup mayonnaise, juice of 1/2 lemon, 1 tablespoon chopped capers, sweet pickle relish and minced onion. Season with dried/or fresh dill, salt and lemon pepper to taste.