Crispy Spicy French Fries
Junebug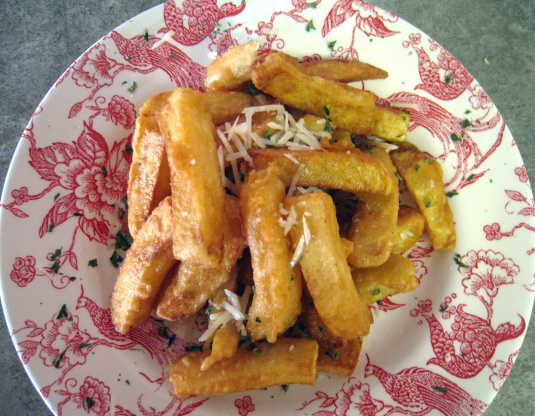 I found the recipe on the internet. It's amazing. I have also used frozen french fries instead of fresh potatoes and it came out great.

terrible flavor and got very soggy fast!!
2 1⁄2 lbs potatoes, peeled

1

cup flour

1

teaspoon garlic salt

1

teaspoon onion salt

1

teaspoon salt

1

teaspoon paprika
1⁄2 cup water (or more)

1

cup vegetable oil, for frying
Slice potatoes into French fries, and place into cold water so they won't turn brown while you prepare the oil.
Heat oil in a large skillet over medium-high heat.
While the oil is heating, sift the flour and spices into a large bowl.
Gradually stir in enough water so that the mixture can be drizzled from a spoon.
Dip potato slices into the batter one at a time, and place in the hot oil so they are not touching at first.
The fries must be placed into the skillet one at a time, or they will clump together.
Fry until golden brown and crispy.
Remove and drain on paper towels.