Nimz1466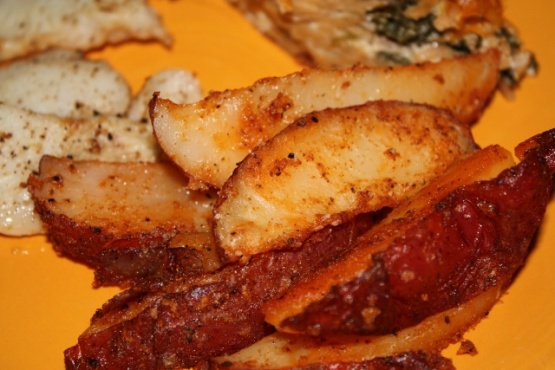 My Mom got this recipe out of a newletter PG&E in the San Francisco Bay Area sent out years ago. These are fantastic!
I came across this recipe about a month ago, and have been using it again and again for my family. I add a little bit of rosemary for the lady. The spice mixing also works for making frozen hash browns of the cubed kind if you're in a rush but want the flavor.
Scrub potatoes; do not peel.
Cut each potato into half and then into 4 wedges. If potatoes are small, cut in half and then into 2 wedges.
Place potatoes in a pan and cover with water.
Cover pan and bring to boil; cook for 10 minutes.
While potatoes are cooking, combine vegetable oil, paprika, onion powder, garlic powder, black pepper, salt, and cayenne pepper in a large bowl.
When potatoes are cooked, drain and toss in the seasoning mix while still warm.
At this point potatoes can be held up to 3 hours at room temperature before proceeding.
Prepare baking sheet with nonstick vegetable spray.
Arrange potatoes in a single layer.
Bake at 400 degrees Fahrenheit for 20 minutes until golden brown.
Serve immediately.