gailanng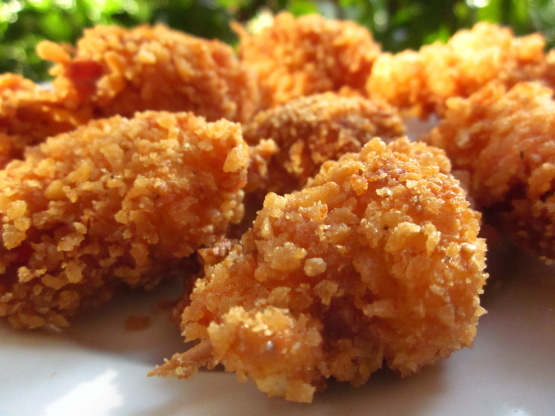 This is a recipe from the August/September 2008 issue of taste of home. Great for entertaining and parties! A little time consuming to prepare, but worth it!

My DH and I really enjoyed these during our date night dinner. They are a great change of pace from jalapeno bites and they didn't take too long to make which was nice. DH kept shoveling them in as I was frying them and I had to threaten him with a spoon so there would be enough left for dinner! The coating worked well and didn't fall apart during cooking, which I was worried about. I can't wait to make them again at one of my family and friends parties!
Butterfly the shrimp along the outside curves.
Spread about 1 teaspoon cream cheese inside each shrimp.
Cut bacon strips in half lengthwise, wrap a piece around each shrimp and secure with toothpicks.
In three separate shallow bowls, place the flour, eggs, and bread crumbs.
Coat the shrimp with flour, dip into eggs, then coat with bread crumbs.
In an electric skillet or deep fat fryer, heat oil to 375°F.
Fry shrimp, a few at a time, for 3-4 minutes or until golden brown.
Drain on paper towels.
Discard toothpicks before serving.