Derf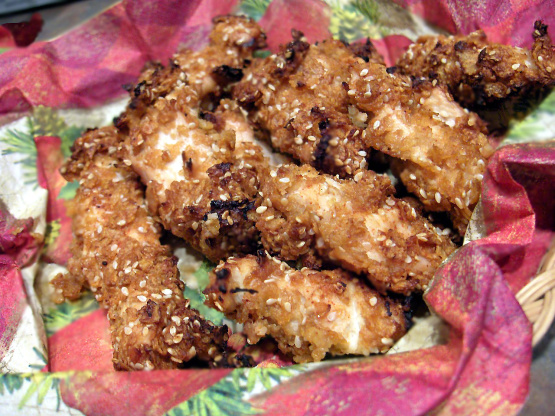 A family favorite, and light to boot! I have calc'd each serving to be 6 WW points. Credit given to Mary Baker, posted in Cooking Light magazine.

Top Review by Derf
We loved the flavour, but I had a little trouble keeping the coat on, when I went to turn them over while cooking, some fell off. I wanted chicken for a picnic finger food, so I too cut the chicken breasts in strips. Actually worked very well, and I will make them again, good picnic chicken! Thanks for posting, lovely combination of spices with the nuttiness of the sesame seed.
Preheat oven to 400.
Spray a 15x10" jelly roll pan/cookie sheet with cooking spray.
Set aside.
Combine first 6 ingredients in a large zip-loc bag.
Set aside.
Combine the yogurt and honey in a shallow dish.
Add chicken, a few pieces at a time, to the yogurt mixture, turning to coat.
Add chicken pieces to the zip-loc bag; seal, and shake to coat.
Remove chicken from bag, and place on the prepared baking sheet.
Leave a little space between each piece for better browning.
Drizzle melted butter over chicken pieces.
Bake at for 45 minutes or until chicken is done.