Crispy Salmon Cakes With Lemon- Caper Mayonnaise
gailanng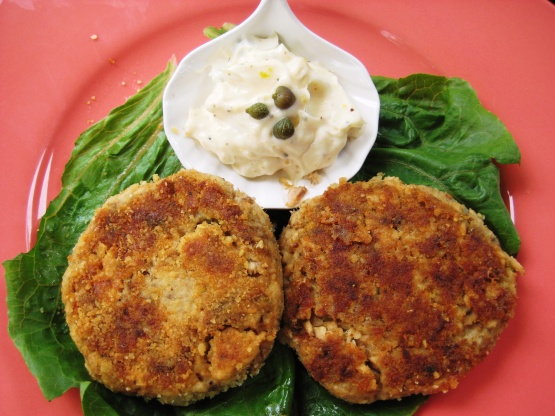 This recipe was published in Cooking Light. I make it a bit different than it originally appeared, though (I don't use fat-free mayonnaise, saltines, etc. and also add some additional ingredients to suit my taste). If you would like to make the original version, just stick with the fat-free items and omit the last 4 items in the ingredient list (mayo through Tabasco) and you will have the original recipe. Prep time includes 20 minutes chilling time for the salmon cakes.

Top Review by MrBob
This has become our go to recipe for salmon cakes for sometime now but I never got around to posting a review until now. Follow the recipe exactly, make sure to use the flavoured mayonnaise, and you will not be disappointed.
Mayonnaise:.
Combine first 6 ingredients in a small bowl; cover and chill.
Salmon Cakes:.
Heat 1 teaspoon oil in medium nonstick skillet over medium heat; add onion and celery and saute' 4 minutes, or until tender.
Combine onion mixture with 1/2 cup crackers, mustard, 1/4 teaspoon black pepper, salmon, egg, mayonnaise, lemon juice, Worcestershire sauce and Tabasco in a medium bowl; divide into 4 equal portions, shaping each into a 1/2-inch thick patty.
Coat each patty with 1 tablespoon crackers; cover and chill 20 minutes.
Heat 2 teaspoons oil in a large nonstick skillet over medium heat until hot; add patties and cook 5 minutes on each side or until lightly browned.
Serve salmon cakes with flavored mayonnaise.