Crispy Rice Cheese Snacks
rpgaymer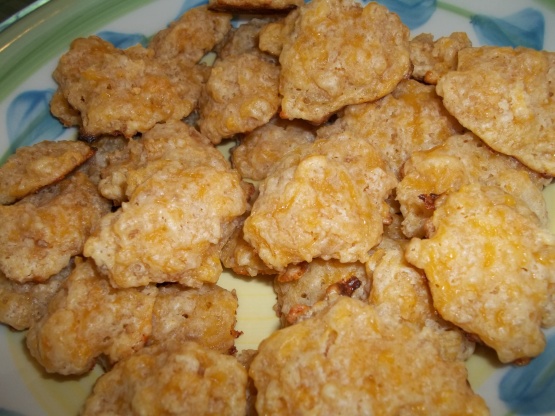 I found this handwritten recipe in my late mother-in-law's personal cookbook. I feel a connection with her when I cook a recipe that she has collected along the way.
These taste like a cross between cheese straws and Red Lobster's cheddar biscuits. I was expecting something like a cheesy rice crispy treat, but these turned out very rich and moist instead. Mine didn't puff up in the oven because I don't think I creamed the butter correctly (I've never done it before), but they were still enjoyed by everyone. [Made & Reviewed for PRMR]
Heat over to 375 degrees.
Cream butter. Add all other ingredients. Blend well. Shape into marble sized balls and flatten lightly with a fork. Bake on an ungreased cookie sheet for 10-12 minutes.