Crispy Potato Wedges With Mustard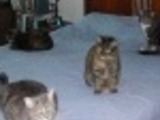 This was a Super Bowl recipe that came from the NY Times, so it's suitable for a bunch of hungry guys:) Adapted from Waldy Malouf of the Beacon Restaurant. You can either microwave this in about 30 minutes or bake it in about 60 minutes. I microwaved and used my favorite brown mustard, Koskiusko. Outside was tasty and crispy and inside was nice and soft. Careful lest your smoke detector goes off. Makes a great snack/appetizer though!
Directions
Preheat oven to 400 degrees F. Pierce potatoes with a fork and bake them until almost cooked, about 30 to 40 minutes. (Alternatively, microwave them on high for 6 minutes, turning them halfway through.) Leave oven on.
In a large bowl, stir together mustard, olive oil, thyme, salt and pepper. When cool enough to handle, cut potatoes lengthwise into 4 wedges each. Toss wedges in mustard mixture until thoroughly coated.
Raise oven temperature to 500 degrees F. Lay potato wedges, with one cut side down, on a rimmed baking sheet and roast for 20 minutes, turning them onto the other cut side after 10 minutes. Transfer to a warmed platter and serve.
Most Helpful
This was good, but I think I would cut the potatoes into smaller wedges to let more of the potato be exposed to the mustard mix. Made for TYM Tag.

I dont' think I had ever used my oven at 500 degrees before, lol. I was a little worried it would be too hot and they would just burn to a crisp, but they turned out beautifully. Crisp on the outside, tender and soft on the inside. The mustard mix was nice, not too overpowering. Thanks so much for posting! Made for phase 2 of Theirs, Yours & Mine Photo Tag.
I used a leftover baked potato and cut the wedges more like big fries. I enjoyed the crispy coating of musard! Thanks! Made for the Vegetarian Swap.