teresas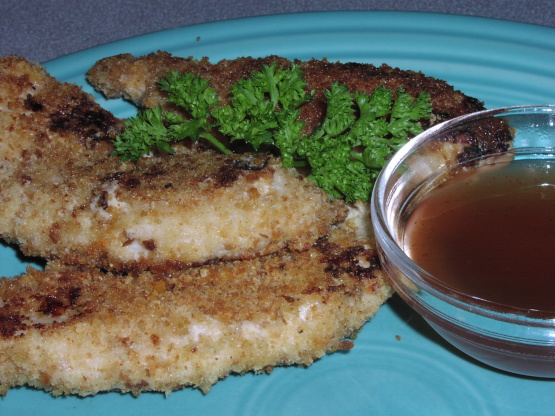 Chicken tenders can also be use instead of pork. And use a plum sauce instead of the mayonnaise.

We really enjoyed these. Made as posted. I do think next time I would increase the cayenne pepper for more heat. I made mine using the chicken and did dip in the plum sauce. Although next time I'm dipping in a honey and mustard sauce. :) Thanks for posting.
In food processor, add the melba toasts and reduce in a breadcrumbs.
Add butter by pulsing on and off -- until moist.
Put the breadcrumbs in a ziplock sealable bag. Set aside.
In a small bowl, mix 2 tablespoon mayonnaise, salt, pepper and cayenne pepper. Add pork tenders and mix to coat well.
Put 1/4 of pork tenders in the bag of breadcrumbs, close it and shake to coat well. Put tenders side by side on a greased baking sheet.
Proceed the same with the remaining pork tenders.
Bake in a preheated oven of 425 F 20 to 22 minutes or until not pink inside. (flip the tenders at mid-cooking).
In another small bowl, mix salsa and remaining of mayonnaise. Serve with pork tenders.