loof751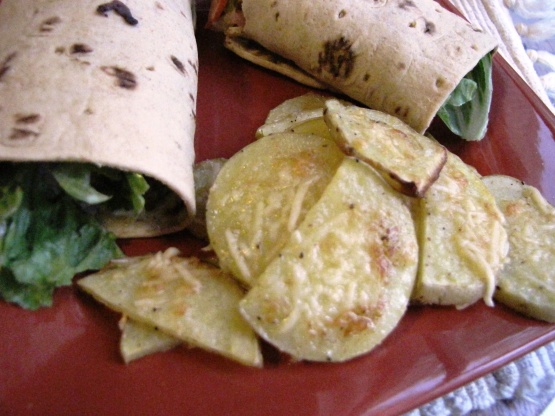 Quick, easy and addictive. Great with steaks...never any leftovers, which is good, since I don't think it would reheat very well.

Top Review by nnreq
Oh so yummy!!! I made these this weekend as part of my bratathon along with Leeanns chicken breasts and balsamic vinegar and Canary girls zucchini grill packets. So easy to make and so delicious. My hubby actually ate most of the potatoes himself. Thanks so much for a great recipe.
Preheat oven to 375°F.
Scrub potatoes and cut w/skin on.
Spray cookie sheet w/cooking spray.
Place single layer on cookie sheet.
Spoon melted butter over each slice (don't drown).
Sprinkle garlic powder, salt and black pepper evenly.
Cover with parmesan.
Bake for approx 20-30 minutes, remove when cheese is browned and potatoes crispy (thinner slices will be crispier).