Debbwl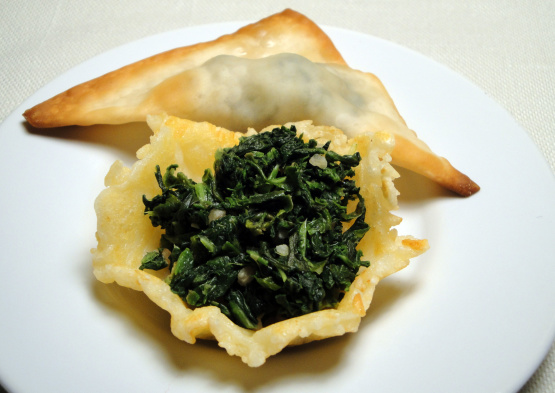 I saw something similar to this on Behind the Bash with Giada D. and came up with these. They served mac and cheese in them but you could really serve anything in them that would taste good with crispy parmesan. An easy way to fancy up your appetizers! You will need 2 mini muffin pans for molding the cups. UPDATE: When I tried posting Zaar would not accept it because it only had 1 ingredient so I added the black pepper. Although it does not call for it, a small crack of black pepper on each crisp probably wouldn't be too bad. Thanks!

Top Review by Debbwl
These taste great! My crispy parmesan cups were filled with sautéed garlic spinach for a nice simple little appetizer. While these are easy to make it does take a few tries to get your technique down. I started with 1 tablespoon piled up to maintain the size of a quarter as directed which did not work at all, then took a tablespoon and spread out to about a one inch circle with much better results. Used a nonstick pan with medium heat for cooking and then had to work very quickly to try and mold as they started to cool almost before I could get them onto the mini muffin tin. Again they taste great just takes more practice and talent then I seem to have, no fault of the recipe. Thanks for the post.
Heat a small non stick pan on the stove top over med. heat.
Place 1 tbs. cheese on a small pile, about the size of a quarter, cook until cheese melts and flip over (this is where you could add a small crack of ground pepper to the cheese if you like), continue cooking until they are light golden brown.
Place a mini muffin tin upside down on a flat surface.
Drape cheese over the "molds" of the pan and press down with a second inverted mini muffin tin.
Let cool and remove from molds.
You can trim off any excess cheese for a more uniform cup.