Crispy Parm- Crusted Filet of Fish
Bergy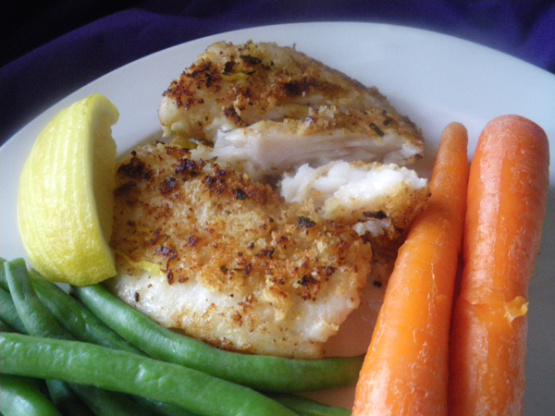 From Rachel Ray's Website. I saw her make this on TV last week and thought it sounded yummy. I haven't tried it yet but wanted to save it somewhere safe as I am trying to incorporate more fish into my families diet.

Top Review by Bergy
I love that Old Bay Spice and in combination with lemon & Parmigano-reggiano it is a total winner. I used Basa filets - they were wonderful. However I did modify the recipe a bit. I didn't use any flour - I sprinkled the Old Bay right on the fish. I didn't use any eggs either - I used Panko crumbs (Japanese breadcrumbs) that I mixed with the cheese Thyme & lemon Zest. There were just enough crumbs to give a lovely texture and cut back a bit on the calories. Used a no-oil spray to fry the fish Served with a lemon Wedge. Wonderful dinner thanks to your recipe Kerena
Set up 3 dishes for breading the filets: In the first, combine the flour with the Old Bay Seasoning. In the second, beat the eggs with a splash of water. In the third, combine the breadcrumbs with the Parmigiano, thyme and lemon zest.
Preheat a large skillet with with the olive oil in it.
Dip each fish filet first in the flour, then the egg and finally the breadcrumbs.
Saute the first 2 fish filets until golden brown, about 2 mintues per side. When they are done place them on a cooling rack placed on a cookie sheet and keep them warm in a hot oven (250), while you cook the other 2 filets.
Serve with lemon wedges.