Crispy Panko Chicken Cutlets
Swirling F.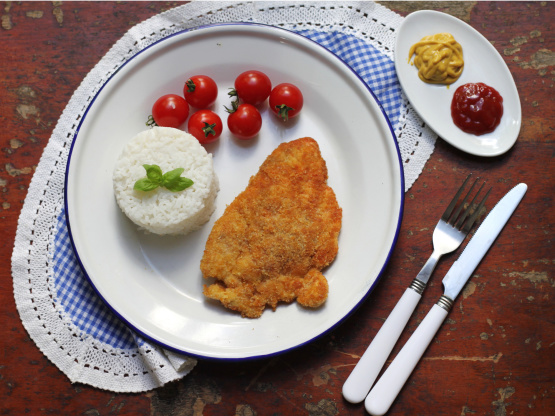 This is a fast and easy recipe to make on a busy night. We especially like the crunch of the Panko bread crumbs. (Panko crumbs can be found in the Asian section of the supermarket.)

Top Review by Roy B
I used the bredding and,instead of pan frying,i oven baked'em till the juices ran clear woo hoo. panko makes some real good chicken... thanx!!
Using a mallet, gently beat the chicken breasts to a uniform thickness. (This prevents the chicken breasts from shrinking and promotes even cooking.).
Combine the flour, onion powder, garlic powder, salt and pepper in one bowl. Place the egg and water mixture into another. Put the Panko bread crumbs into a third bowl. Dredge chicken with seasoned flour and pass through egg mixture. Shake off excess egg. For an even crispier crust, dredge with flour again and pass through egg mixture one more time.
Now completely cover chicken breasts with Panko crumbs, pressing crumbs down gently if needed.
Heat oil in frying pan on medium-high heat. Cook for 4 minutes on each side (or until no longer pink inside) and serve.