Thorsten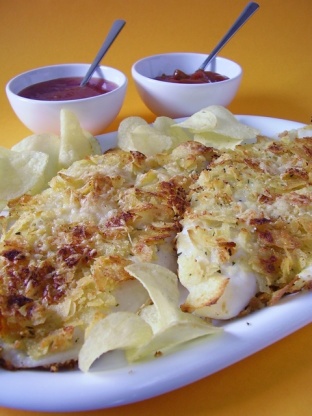 You won't believe how crispy, crunchy, fish can be without frying! This is SO good!

Top Review by KeyWee
Wonderful fish recipe! I used cod fillets. Had a little trouble getting the chip mixture to stick so I "pressed" it onto the fish - no problem. Also would omit the thyme in future (but ONLY due to personal preference!). Will definitely make this again - very easy & delicious!
1 1⁄2 lbs fish fillets, I use halibut or 1 1⁄2 lbs cod
1⁄2 cup milk
1 1⁄2 cups crushed potato chips
1⁄4 cup grated parmesan cheese
1⁄4 teaspoon thyme

2

tablespoons dry breadcrumbs

3

tablespoons butter, melted
Put milk in a shallow bowl.
Combine potato chips, parmesan, and thyme in another shallow dish.
Dip fish in milk, then coat with potato chip mixture.
Sprinkle a greased baking dish with the bread crumbs.
Put fish over crumbs; drizzle with butter.
Bake, uncovered at 500* for 12 minutes, or until fish flakes easily with a fork.