Crispy Oven Baked Chicken Thighs
teresas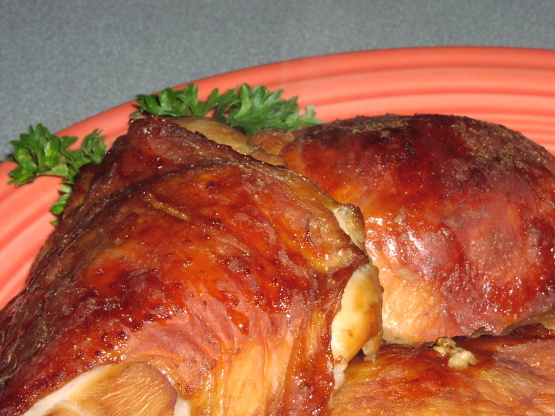 These are so flavorful, and that crispy skin...oh, so delicious! They're also cheap and easy. Try it, it'll become a favorite! I know it says 5 servings, but I always eat two, so plan accordingly. There's plenty of marinade to throw in more chicken. If not, add more soy sauce. It's hard to mess this up.

I thought this was very good! I took the advice of another reviewer and pierced the chicken before marinating and I used low sodium soy sauce. I kept some marinade aside and simmered it and then used it to baste the chicken a few times as it cooked. ( I also drained the grease off twice before I basted it.) I will make this again, thank you.
Place all ingredients in a ziplock bag and allow to marinate at least 2 hours, or overnight.
Preheat oven to 425 degrees.
Place chicken at least an inch apart on a foil-lined baking sheet that has been coated with non-stick spray.
Bake 35 minutes, or until the skin is crispy and the juices run clear. Delicious!