Crispy Onion Dijon Chicken
vrvrvr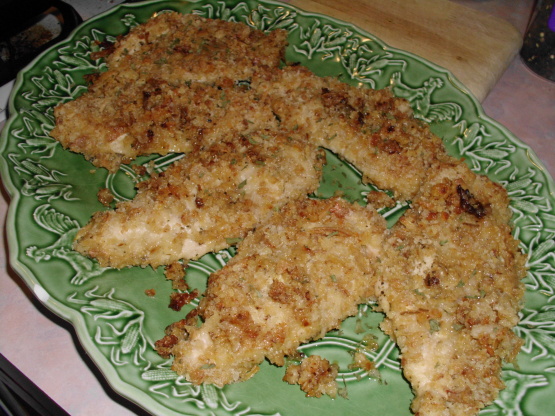 Not boring chicken again :) This is zesty and crispy on the outside and juicy on the inside. The french fried onions really make a wonderful coating.
To be perfectly honest, I am not a mustard person. The only place that I tolerate it is on McDonalds Cheeseburgers. But for some reason, I decided that I would just HAVE to try this recipe to broaden my horizons. I am glad I did! The chicken comes out so moist and juicy and the mustard flavor doesn't overpower like it usually does in most recipes. Even my boyfriend liked it and made suggestions on what to serve it with NEXT time. Thanks so much for helping me add another great recipe to the list that I make on a regular basis!
Preheat oven to 350°.
Just melt, don't cook, butter in small saucepan or microwave.
Add worcestershire sauce and mustard.
Dip chicken in butter mixture and coat well with crushed onions.
Place in baking dish and bake for 45 minutes or until juices run clear.