Crispy-On-The-Top Tuna and Green Pea Casserole (Rocco Dispirito)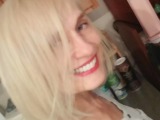 This recipe is based on one of Rocco Dispirito's from his book, Now Eat This! Diet. He says in its intro, "Who grew up eating tuna casserole? Raise your hands. That's just about everybody. Okay, this is not your mother's tuna casserole…nor does it use Tuna Helper. But it does taste just as wonderful – without losing any of its comfort-food flavor. I've wowed it up a bit with Dijon mustard, and I used whole wheat panko bread crumbs for that traditional crunchy topping. If you can't find these particular bread crumbs, you can always toast leftover whole wheat bread and break it into crumbs with a rolling pin." I made this the other night with French's French Fried Onions because I was out of panko bread crumbs. We loved this dish and it has become a new staple dish for us. Per serving: 351 calories, 10g fat (5g sat / 1g mono / 0.5g poly), 64mg cholesterol, 589mg sodium, 34g carbohydrate, 6g fiber, 36g protein. This calculates to 9 WeightWatchers Points Plus value. He says you can save 31 calories per serving by omitting the peas. Before his update, the classic tuna casserole has 28 fat grams and 826 calories – thank you, Rocco! :)
Directions
Preheat oven to 425°F.
Prepare an 8x8x2-inch baking dish by spraying with cooking spray and set aside.
Cook pasta according to package directions in a large pot of boiling salted water. Drain.
In medium bowl combine sour cream, yogurt, mustard, and cheese. Mix in the cooked noodles, tuna, and peas until the pasta is coated with sauce. Season with salt and pepper to taste.
Pour the mixture into the prepared baking dish. Sprinkle panko over the top.
Bake 10 minutes or until rotini is hot throughout.
Serve immediately.