Crispy Loaded Tater Tart #5FIX
the2dees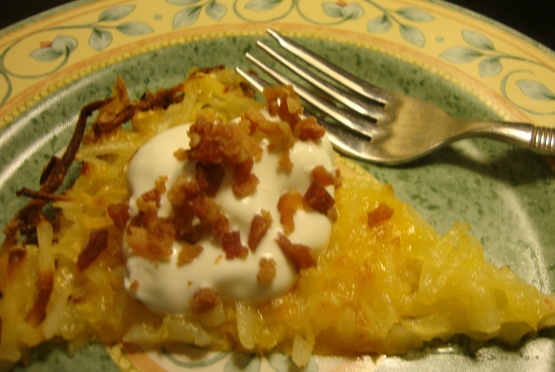 5-Ingredient Fix Contest Entry. This appetizer is a simple and delicious cross between a loaded baked potato and a crispy potato skin appetizer. Crispy potatoes, melted cheese, sour cream and bacon...Yum!
Preheat oven to 400 degrees Fahrenheit.
In the meantime, microwave butter in a medium bowl until melted. Add the potatoes and cheese and stir until thoroughly combined.
Press the mixture into a 9" tart pan. Bake in the preheated oven for 35-45 minutes, or until potatoes begin to crisp and turn golden brown.
Remove from oven and allow it to cool for 5-10 minutes. To serve, place your hand on the bottom of the tart pan and push up to remove sides. Transfer tart to a flat surface and cut into 10 slices. Top each slice with a generous dollop of sour cream and crumbled bacon.
Enjoy!