Crispy Herb Baked Chicken
Marlene.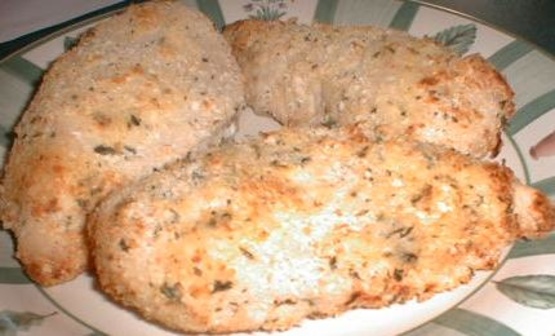 The crispy coating on this chicken makes it flavorful and tender! This was adapted from a Hungry Jack recipe. The original recipe called for dipping the chicken in 1/3 cup margarine instead of spraying it with cooking spray, so feel free to do that instead if you prefer!

I dipped the chicken in a beaten egg instead of spraying it with cooking spray (I also just coated the dish in butter instead of spray). I didn't have garlic powder so I just used seasoning salt. Everyone loved it! I was pretty hesitant to try this because potato flakes don't seem like they should go on chicken, but I wanted to get rid of the half-bag of them that were in the pantry. I can't believe how great it is! This is going to be a regular at our house.
Heat oven to 375 F.
Spray a cookie sheet or 9x13-inch pan with non-stick cooking spray.
In medium bowl, combine potato flakes, Parmesan cheese, parsley flakes and garlic powder; mix well.
Spray chicken with non-stick cooking spray; roll in potato flake mixture to coat.
Place in cookie sheet or pan.
Bake for 45 to 60 minutes or until chicken is fork-tender and juices run clear.