aquamarin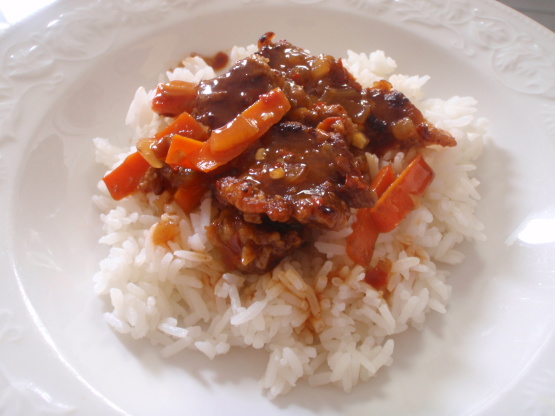 If you like sweet, spicy, crispy Chinese food- this is for you. Adapted from a recipe I saw on "Fixing Dinner" with Sandi Richard.

Top Review by Kaysma
not like this needs another review, but this WAS incredible. i sliced my meat very thin and, at the suggestion of another reviewer, marinated it in #75737 (Kittencal's Beef Or Pork Marinade and Tenderizer). for veggies i used 3 julienned carrots, 1 sliced onion (I didn't have any green onion) and about 1/2 lb broccoli - for the sauce i followed the recipe exactly - other than having to sub 2 tsp ground ginger for fresh as there was none available to me (i whisked it in to the sauce instead of adding it with the veggies). once the sauce began to boil i kept it on high heat and kept stirring until the sauce reduced - then added the beef which further thickened up the sauce - i don't think ginger beef should be a 'saucy' meal - more like a sticky coating for the meat - so the amount of sauce was absolutely perfect and, since there was only enough to coat the meat/veg, my beef stayed very crispy (but still tender - how did that work?!). the sweet and heat levels were exactly how i like it - my dear love also raved. i think the keys to this recipe (aside from the flavour profile) are making sure your oil is very hot, continual stirring and draining off the oil before stir frying the veg (as stated in the recipe) - it was crispy, not oily and extremely flavourful. thank you so much for this recipe - i can't wait to make it again.
Place cornstarch in a large bowl.
Add water gradually while whisking.
Beat eggs into cornstarch mixture.
Toss in beef and stir to coat.
Pour 1 inch of oil into wok, heat until boiling hot, but not smoking.
Add a quarter of the beef to the oil.
Seperate with a fork and cook, stirring frequently, until crispy, Remove, drain on paper towel and set aside.
Repeat until all the beef is cooked.
Drain off all oil except for about 1 tablespoons and add carrots, onion, ginger, and garlic in that order.
Stir fry briefly over high heat.
Combine last 5 ingredients and add to vegetable mixture.
Bring to a boil and then add beef.
Heat thorough and serve immediately.