Leslie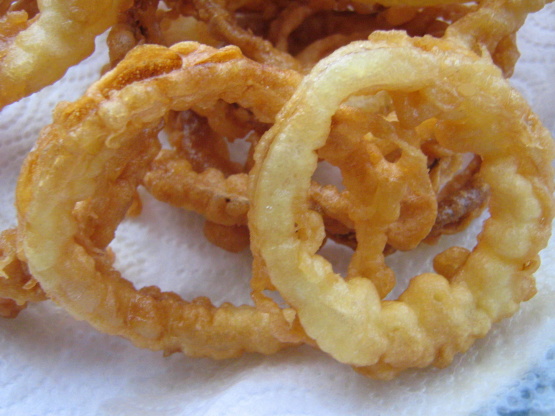 This recipe is a family favorite. Beaten egg whites make this batter thinner, everything comes out light and fluffy. This recipe needs to be prepared an hour before using.

I made this recipe on 4/11/09 for the " Spring PAC "event. Since my SO and I were having hot dogs,this batter was used to coat onion rings. I really enjoyed fact that there was no need for three seperate bowls to end up with a very delicate tasting coating. This recipe is even easy enough for a beginner cook. This " WILL " be made again. Thanks for posting and "Keep Smiling :)"
2

eggs, separated,whites set aside
1⁄2 teaspoon salt
3⁄4 cup lukewarm water

1

tablespoon oil
3⁄4 cup flour
IN BOWL: Beat 2 egg yolks and 1/2 teaspoon salt.
ADD 3/4 cup lukewarm water and 1 tablespoon oil, mix.
Gradually add 3/4 cup flour until smooth.
Set aside for at least one hour.
Just before using beat the egg whites to soft peaks and fold into the batter.
Ready to use for battering.
I find this recipe sufficient in preparing four to six servings.
It depends of course on what you are battering and how hungry the family.