Crispy Fried Onion Strings
CandyTX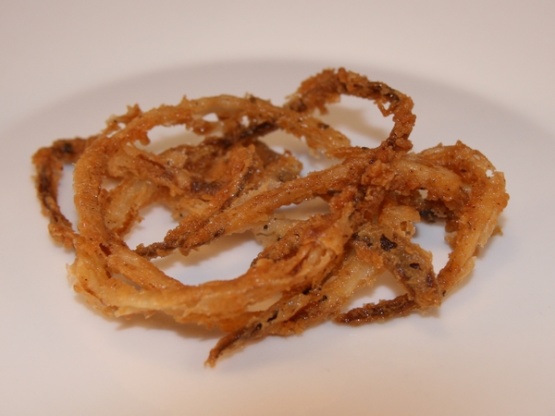 This recipe produces tasty and crispy thin onion rings. Onions need to be refrigerated in ranch dressing mixture for an hour, so plan ahead.

I just stumbled across this web site and was viewing this recipe and my eyes caught the calories per serving as a whopping 2517 per serving! That sounded so insane I had to check the ingredients and see if I could figure it out. What I noticed is that the two cups of oil it calls for to fry these is listed fully in the nutrition breakdown. Big error. If you pulled your onion rings out of the pan and the pan was dry, then sure, all that two cups was soaked into the onion strings and you'd have to count it. But anyone who fries knows that when you remove what you are frying from the oil, most of the oil remains in the pan. Of the oil that sticks to what your frying, some of that is blotted off as you drain/blot for excess oil. Without doing a post-frying weigh-in of the remaining oil, I'm just guessing no more that a tablespoon is thinly spread over one serving. Just a guess, but much, MUCH closer than the whole cup being figured in the 2517 calories currently logged. If you subtract that 1807 calories, figuring for one tablespoon for a serving, you get a new total of 710 calories per serving. That matches much better with other online recipes for onion strings.
Slice onion into thinnest possible rings.
Place in a shallow dish.
Combine ranch dressing and milk and pour over onions.
Cover and refrigerate at least 1 hour.
In a plastic bag, combine flour, salt, black pepper and cayenne pepper.
Shake to evenly distribute ingredients.
Heat oil to 375° in deep saucepan.
Remove a small handful of onion rings from dressing and shake off excess.
Drop into flour, separate rings and shake to coat.
Drop a few rings at a time into hot oil and cook until golden.
Remove from hot oil with a slotted spoon and drain on a paper towels.
Repeat with remaining rings until all have been battered and fried.
Keep warm.