Crispy Fried Eggplant (Aubergine)
leithead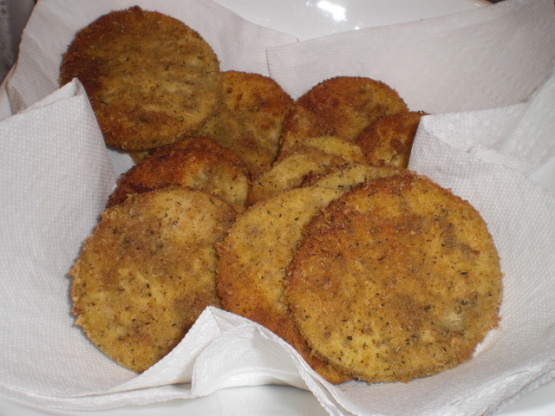 No more soggy eggplant!The secret is in the cornstarch.It keeps the eggplant crisp.

Perfect Eggplant! Just what I was looking for. I made it on Saturday night, planning to assemble it into eggplant parmagiana today. Good thing I tripled the recipe and cooked up 3 eggplants. My kids....yes KIDS....could not get enough of the freshly fried eggplant. I think they ate 1 whole eggplant between them, including my picky 7 year old. I used Italian Breadcrumbs, not fresh. I cooled the fried eggplant slices and stored them in ziploc bags until today and went ahead with my parmagiana plan. With the cheese and sauce, you could not tell the eggplant was not made fresh today. Everyone raved. The one suggestion I would make it to salt the eggplant for an hour, then rinse and pat dry. This sweats out the bitter juices and condenses the air pockets in the vegetable, so it absorbs less oil. Yes, it is an extra step....but it is worth it. Thanks for the recipe!
Peel eggplant and slice into 1/4 inch slices.
Add salt to egg and beat.
Add cheese to breadcrumbs.
Dip eggplant slices into cornstarch and shake off excess.
Dip into egg.
Press breadcrumb onto slices.
Fry till golden.
Salt to taste.