Crispy Fried Catfish Nuggets
gailanng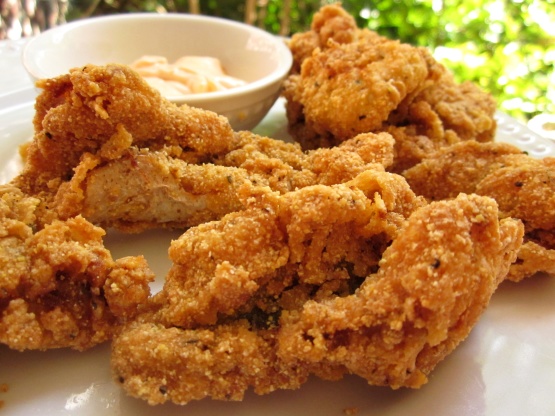 Frying anything is a chore, this technique will make it worth the trouble. This can be applied to any type of meat that is fit for frying. I only do this with catfish since it has the right flavor and consistency to hold up to the process and makes for decent left-overs. Tilapia is for people who pretend to like fish so don't let me catch you using that instead! This is best served on an onion roll with Durkee Sauce, Green Tomato Relish and thin sliced red onion.

Can't wait to try this out tonight for supper. This sounds amazing. =)
Rinse, pick out bones and undesirable bits, lightly dry catfish.
Mix the corn meal and seasonings in a pie plate.
Scramble the eggs and buttermilk in a bowl.
Heat a skillet filled about 1/2 an inch with corn oil over a medium flame. Throw a drop of water in it, when it sizzles you're ready to cook.
While the oil is heating, dredge the fish in the corn meal mix.
Then dip in egg mix.
Then heavily coat it in then corn meal mix pressing the corn meal into the egg. Be sure to cover all the wet spots before lightly knocking off any loose corn meal.
Last, set the piece aside to await frying.
For an extra thick crust, dip in egg and corn meal again. You will need to increase the amount of egg, buttermilk and corn meal by 50%.
Once the oil is hot, place as many pieces of coated fish into the skillet without over crowding it using the pieces that have been sitting the longest.
After about 3 minutes, turn the pieces half way around keeping them on the same side and cook until the sides start to brown. You want a medium to dark brown color on the underside before flipping.
Repeat the same after flipping but watch closely as it won't take as long to brown.
Remove pieces from the skillet, let the oil drain off and place on a rack to cool while the next round gets fried. You can put them in a 200 degree oven to keep hot while the rest cook.
Coat both sides of the onion rolls with Durkee Sauce (Mayo if you don't have it), place pieces of fish on the bottom half, cover top of fish with relish and onion, add top half of the roll and resist the urge to eat it all yourself.
The crust is a bit dry so you want to eat it with some kind of dipping sauce.
For left overs, just reheat in a 250 degree oven or eat it cold like fried chicken.