loof751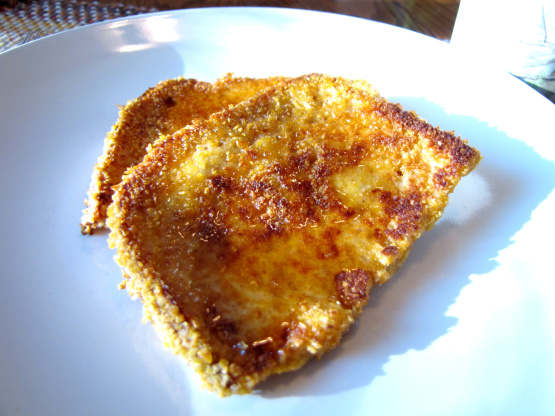 From the side panel of a box of kellogg's Corn Flake Crumbs. There are very good with just a hint of sugar & cinnamon.

Tasty breakfast treat! I made just as directed and my toast came out crispy on the outside and soft on the inside. Next time I may put some of the sugar/cinnamon in the cornflake crumbs as well as the egg mixture. Great twist on the traditional french toast - thanks for sharing the recipe!
2

cups kellogg's corn flake crumbs

2

cups milk

2

eggs
1⁄2 cup sugar

1

tablespoon cinnamon

8

slices stale bread
Place corn flake crumbs in a shallow dish and set aside.
Combine milk, eggs, sugar and cinnamon in a medium size bowl and dip bread into mixture coating both sides well the dip into corn flake crumbs.
Grill or fry in a pan coated with cooking spray, cook bread on medium heat until both sides are golden brown, turning once. Serve hot with maple syrup.