Bergy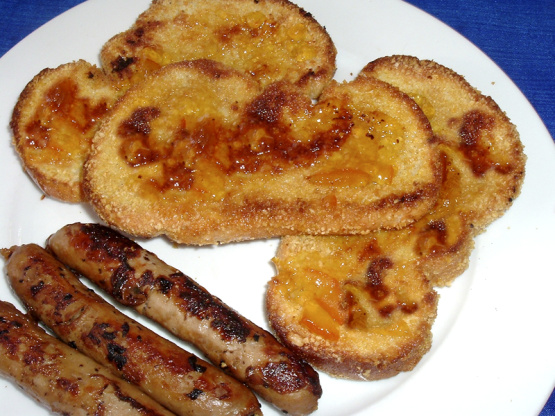 this will be different than any other french toast you have ever had...

Top Review by Bergy
I am not awarding stars because I may have done something wrong in the process of making the recipe. I expected the slices to puff in the oven turn golden and have a crisp coating. The crispness was there and that was very nice. My slices were apprx 1/2"thick- I recommend that they be at least 3/4".My oven was at 450F when I put in the tray and after 5 minutes they had not started to brown but I flipped them as the recipe said to do and baked a further 8 minutes - they were still not golden so I took out a fry pan , melted a tsp butter and finished them on top of the stove. They did not puff - I don't know why. I served them with Orange marmalade it went well with the toast. I am sorry that I can't be more helpful in explaining why this didn't work for me. I did cut the recipe back to 3 slices but there was lots of egg mixture in each slice.
4

large eggs, beaten
1⁄2 cup milk
1⁄2 teaspoon cinnamon

1

teaspoon vanilla extract
1⁄8 teaspoon salt

2

cups corn flakes cereal, crushed

1

loaf French bread, cut into 10 slices

GARNISH
whisk first 5 ingredients together in a shallow dish -- set aside.
spread crushed cereal on a plate.set aside.
dip bread slices into egg mixture; turn once to coat both sides.
place in crushed cereal; turn once to coat both sides.
arrange on a buttered baking sheet --
bake at 450* for 5 minutes.
flip bread slices.bake an additional 5 minutes.
drizzle with maple syrup; serve warm.