Crispy Fish in Chili Sauce
Peter J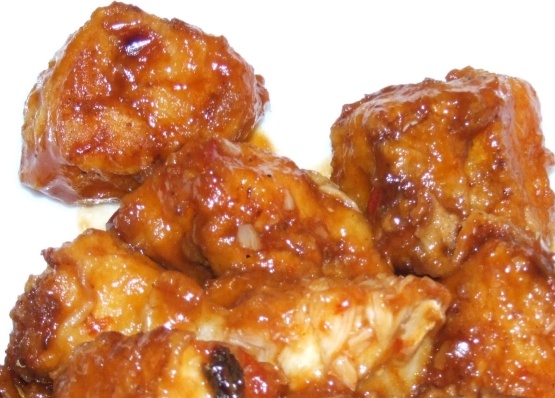 One of my family's favourite dishes. A bit hot but, you can alter how hot it is. Very tasty and very morish.

This was oustanding! I only had sweet chili sauce but like some heat so added a diced dried habanero, however I could tell the sauce had enough other flavours that anyone who likes it milder would enjoy just as much with only sweet chili sauce. The consistency of the batter and sauce was great and your directions were spot on to give a great result.
The strength of the chili sauce will effect how hot this dish is.
I recommend a sweet chili sauce for those who don't like it too hot.
Place oil, ginger, garlic, tomato sauce and chili sauce in a pan on medium heat for 5 minutes.
Add remaining ingredients and let it simmer on low for a few more minutes.
Leave the sauce to sit while you prepare the fish.
Chop the fish into approximately bite-size pieces.
Sift the flour and cornflour into a bowl.
Make a well in the flour and add the egg white and water.
Mix to a smooth batter.
Coat the pieces of fish with the batter.
Heat oil in large pan and dip the fish into the oil.
Cook the pieces for a few minutes each (cook many at a time).
Heat the sauce back up.
Once the fish is all cooked add the sauce to the fish in a large frying pan.
Serve when hot.
Enjoy.