Crispy Everything Kale Chips
Rita1652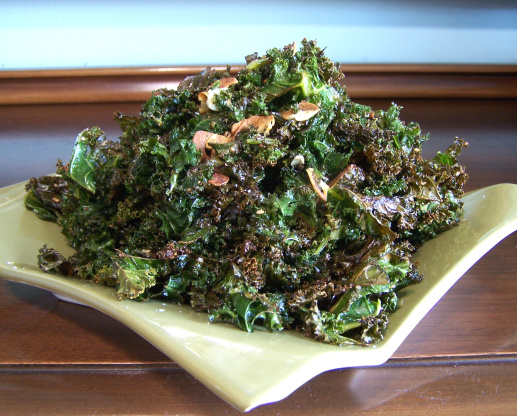 Kale a Super-food that your Children will eat as a snack or a side. Or the Guys to enjoy as chips during the game. If you have leftovers try them tossed in a salad, soup, pasta, rice, in a sandwich..... One cup of raw kale contains 15% of the recommended daily value of calcium and Vitamin B6, 40% of the magnesium, 180% of the Vitamin A, 200% of the Vitamin C and a whopping 1020% of the Vitamin K. Also loaded with sulfur containing phytonutrients which have been shown to protect against many kinds of cancer. So don't just garnish with it! It does your body GREAT!

If there's any way you can make these in a dehydrator, do. The oven method requires hands-on attention and frequent stirring; the dehydrator method allows you to simply mix the kale and oil (& really any seasonings you prefer) and turn on the machine. I do highly recommend stripping the large stems off (fold the kale leaf in half and slip your paring knife down the stem): they're very stiff and hard to chew when left on. I LOVE Kale Chips now!
Preheat oven to 375 and place rack on lower level in oven.
Mix the optional dry ingredients together. Mix and match to your likings or use all of them.
Toss the kale, garlic with oil to coat then sprinkle dry ingredients over to coat evenly.
Spread onto a baking sheet, and bake for approximately 15 minutes or until crispy and brown around the edges. Stirring 1/2 way through. If not crispy cook 5 more minutes till edges are lightly browned.