Kitsune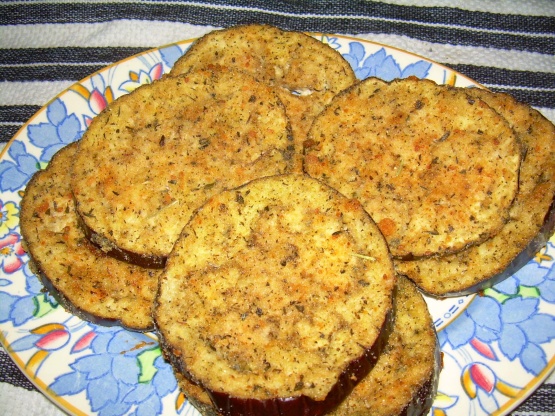 This recipe goes well with any main dish. Be sure to use the seasoned crumbs such as Pepperidge Farm brand for stuffing.

These baked up lovely. The flavor from the stuffing cubes was really good. I will use this recipe again, as my kids gobbled up the eggplant. Thank you for sharing.
Mix first 3 ingredients and set aside.
Mix crumbs, Parmesan and Italian seasoning together and set aside.
Wash and dry eggplant and slice into 1/2 inch slices. Spread each slice with mayonnaise mixture on both sides and roll in crumb mixture on both sides.
Place on a baking sheet and bake at 425º for 15 minutes or until lightly browned.