lether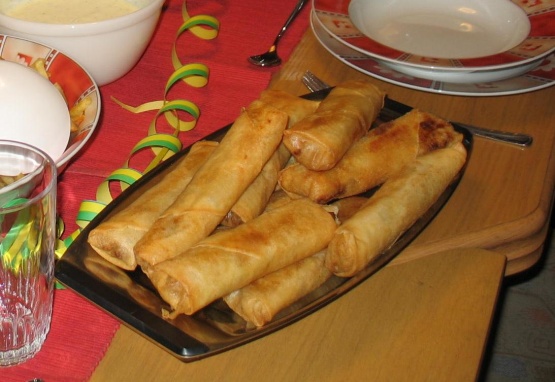 This is my mom's best eggroll recipe. This recipe seriously spoiled me because I've never been able to enjoy any other eggrolls anywhere! The brand of eggroll wrapper is ABSOLUTELY KEY in this recipe! It looks like a lot of steps, but most of them are how to roll an eggroll :D
Marinate sliced chicken for 5-10 minutes.
Heat wok on high, and add chicken, stirring until lightly cooked. (NOTE: Do not over cook, chicken will be reheated later). Remove chicken from wok and set aside.
Heat a little oil in wok and add garlic and ginger. Brown very lightly, then add cabbage carrot, onion, celery, and green onion. Stir until cabbage and onion is slightly limp. Stir in soy sauce, oyster sauce, and cornstarch mixture. Add salt to taste. Remove from wok and allow to cool to room temperature or colder (very important!).
Heat oil in sauce pan or wok for deep frying. Do not get too hot; about medium to med-high is fine.
Beat egg white in a bowl until fluffy.
Separate eggroll wrappers and store under a towel to prevent drying.
On a plate, lay out a wrapper diagonally (with a corner pointing to you) and fill with about 1/2 cup filling (It is important for the filling to be cooled. If it is hot, the wrapper will tear). Fold corner closest to you over filling and tuck under.
Gently but tightly roll about halfway up.
Fold side corners toward the middle.
Continue rolling up and leave about 2 inches unrolled.
Brush a small amount of egg white on the exposed corner and finish rolling.
Fry eggrolls until crispy golden brown.
Remove and place on paper towels to drain.