Crispy Creamy Cabbage Salad With Bacon German Style
Parsley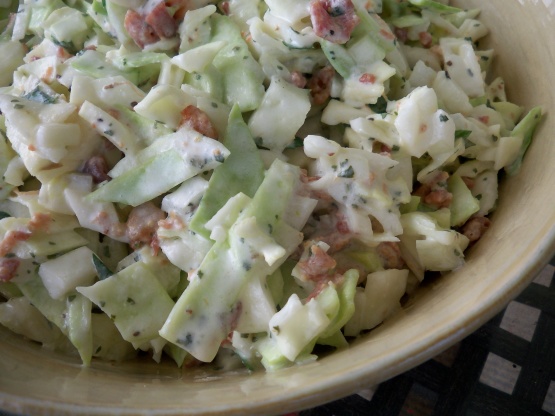 This is a creamy crunchy cabbage salad my family in Germany makes. I used half and half in this recipe but it also tastes very yummy with cream. I have also made the salad with evaporated milk before. I prefer a subtle bacon flavor, therefore I use oil instead of the bacon drippings but you can substitute these if you like.

Wonderful! It's almost like a cole slaw with bacon. I chopped my cabbage fairly small. My herbs were a combination of fresh parlsley, cilantro and tarragon. I felt that was a great combination. I just added some chopped onion to suit my personal taste. Thanx for sharing!
shred cabbage fine or coarse as you prefer.
dice bacon (or canadian bacon) and fry crisp.
Mix half and half, vinegar, oil (or if you like more bacon flavor substitute with the bacon drippings), sugar, salt and pepper.
Ad bacon bits to the dressing.
pour over cabbage, mix and store in the fridge for 1/2 hour before serving.