Kathy228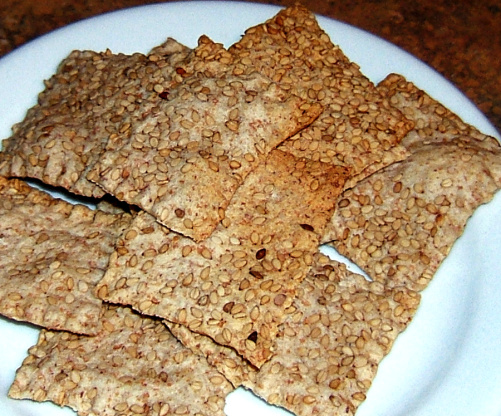 Versatile recipe. Add finely ground or chopped nuts, grated parmesan cheese, edible seeds, or anything else that fits your fancy.

Very crispy and tasty. I mixed some sesame seeds into dough and sprinkled some more on the top, before baking along with grated parmesan. Only thing was that I needed to put them in the oven for a little longer than specified time (about 15 - 17 mins) for them to bake completely and go lovely and golden. Otherwise, great recipe. Thank you.
Put the white flour, wheat flour, salt, and cold butter in food processor.
Process well.
Blend in the cold water.
Mixture should be crumbly, yet hold its shape when pressed together.
If too dry, add a little more water.
Gather mixture into a ball.
Roll out on lightly floured surface, to 1/8- or 1/4-inch thickness (Note: seeds, such as sesame, flax, or poppy, can be rolled into the dough at this point).
Cut dough into desired shape.
Place unbaked crackers onto greased cookie sheet.
Prick tops with fork, then wet tops with a little water (The water makes them crispy. Too much water makes them tough).
Bake in 400 degree oven for 10-14 minutes.
Cool on wire rack.